Emily Pross is a 21 year old professional downhill skateboarder from New Jersey.
Emily showed up on the downhill scene in 2014 and took it by storm. She almost immediately dethroned the reigning women's world champion and has maintained an iron grip on the women's division ever since. Looking for a bigger challenge and the respect of the male racing elite, she set her sights on the male-dominated "open" class in 2015 and has been making steady progress.
Like every other sport, downhill skateboard racing favors a certain body type. Most top skateboard racers are tall men with long legs for an explosive push, narrow shoulders for aerodynamics, and weight around 185lbs to carry momentum.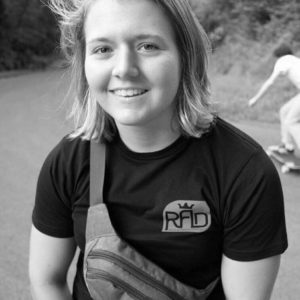 As a woman of average height, Emily faces a steep disadvantage due to her body type that she overcomes with a combination of hard training, aggression, and strategy. An extremely fierce and motivated competitor, Emily weight-trains hard in the off-season to build muscle and be heavy enough to compete with male riders. Careful drafting and racing strategy allow her to overcome the limitations of her push start. Her aggressive riding style keeps other riders from racing dirty. Getting beaten by Emily is so common that racers have a name for it: getting Prossecuted.
A top-ten finisher in the 2016 world rankings, Emily became the first woman to win a major open-class race earlier this year, when she took first place at the Mount Jefferson Downhill race in North Carolina. She has continued to have strong race showings through the rest of the season, maintaining her dominance of the women's division and putting up a few open-class podium finishes. The jury is still out on whether Emily's aggressive race tactics are a good match for Maryhill, but we know the Prossecution will not rest until she's world champion.
Emily races with the support of IXO boards; Berkeley College; Daddiesboardshop; G-form; R.A.D wheels; Ronin Trucks; Hondar; Harfang; Atopic
Text and racing by Maxwell Storey Dubler. Portrait by Alex Charleson.